4.5 GUTTED STARS! ★★★★☆
"Ryan and I are two people who used to be in love. What a beautiful thing to have been. What a sad thing to be."
So I've been putting off this read for too long & after a DNF, I've decided to pick this one up from my trusted buddies rec list. Thanks
Feifei & Rachel
for convincing me to read this! ♥♥
*******
After I Do
tells the story of
Lauren & Ryan
; they've been together for eleven years and married for six. We get a glimpse of their relationship milestones in the first part of the book: How they first met in college, fall in love and then got married. But as years go by, we start to see them drifting apart and their marriage is strained. Even the tiniest issues would set an argument off.
In an attempt to save their marriage, they come up with an unconventional plan;
a trial separation of 1 year with no contact with each other.
From a young couple who was once hopelessly in love to one whose marriage is now falling apart, can Lauren & Ryan still save their marriage?
*******
Firstly, I would need to point out that this is
not really deemed as a romance read
. I think it would fall along the lines of
women's fiction
. This is not the usual story you read where the couple worked towards their HEA , but this is the story
after
their HEA.
This book definitely evoked a lot of buried emotions I had inside as some things hit close to home for me. You don't need to be a married couple to fully experience this read because trust me, I still feel
ALL THE DAMN FEELS
that came along.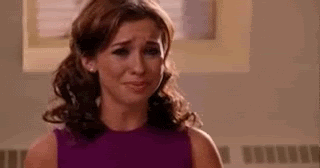 What I really loved about this story was how
real and honest
it was. As much as we all dreamed of a perfect relationship, there will always be bumps and obstacles along the way. I really appreciated how the author
didn't just paint a perfect picture of a happy marriage, but gave us the ugly sides of it.
You get to see how the lack of communication leads to pent-up bitter feelings and how ignoring small issues could snowball to bigger ones.
All of these achingly real situations which most of us could relate to at some point.
It was honestly devastating to watch two people who used to love each other ended up becoming so resentful instead.
Although the story was told from Lauren's POV, I was glad that we got an insight of Ryan's POV from his drafted emails. Sadly, I really did wish the author would have given us more than just that because I'd love to know both sides of the story. Still, it completely gutted me EVERY SINGLE TIME I read those emails exchange. You could really feel the
anger, frustration and resentment that was poured out from both sides
but above all that, how much they still missed and loved each other. And God, the way it was written was
so powerful and raw
and just...seriously so freakin painful to read :'(
"It made me miss you. Not you, my wife. Or you, the woman who has been with me since I was nineteen years old. You. Lauren Maureen Spencer Cooper. I missed you."
Usually if a book made a mess of my emotions like this one did, I'd given it a 5 or maybe 6 stars. But honestly I'm a little baffled by how a couple of 11 years could seriously know so little about each other and how much they lacked proper communication.
Why didn't they make more effort earlier on & only waited till they're 30?
Honestly, I don't think I'd survived past 5 years.
And also, I wasn't really convinced that a 1-year separation without ANY CONTACT was the best idea to fix a marriage. I'm a firm believer of talking shit out and brutal honesty. I almost wished that they DID send those emails to each other. However surprisingly enough, I wasn't really bothered about
them seeing other people during their separation. I already kinda guessed it needed to happen to allow them both to gain a better perspective.
*******
Overall, this book still completely slayed me despite my minor issues for it. It was
emotionally charged and thought-provoking.
Such
brilliant and powerful writing
from the author and
there's just so much you can take from this read.
Lauren & Ryan's story is just as real as many couples out there.
After I Do
is definitely one of those reads that will stay with me for a while and would recommend it to anyone who is looking for an unconventional love read ♥♥