Book Title:
Appealed
Author:
Emma Chase
Series:
Legal Briefs #3
Release Date:
January 19th, 2016
Genres:
Contemporary Romance
When Brent Mason looks at Kennedy Randolph, he doesn't see the awkward, sweet girl who grew up next door. He sees a self-assured, stunning woman…who wants to crush the most intimate - and prized - parts of his anatomy beneath the heels of her Christian Louboutins.

Brent has never let the loss of his leg in a childhood accident affect his ability to lead a fulfilling life. He sets high goals–and then he reaches them.

And now he has his sights set on Kennedy. **
When Kennedy looks at Brent Mason, all she sees is the selfish, Abercrombie & Fitch catalogue-worthy teenager who humiliated her in high school to join the popular crowd. A crowd that made those years a living hell.

She's not a lovesick social outcast anymore - she's a DC prosecutor with a long winning streak behind her. Brent is the opposing attorney in her next case and she thinks it's time to put him through a little hell of his own.

But things aren't exactly working out that way.

Because every fiery exchange has her wondering if he's as passionate in the bedroom as he is in the courtroom. Each argument and objection only makes him want her more. In the end, Brent and Kennedy may just find themselves in love…or in contempt of court.

APPEALED is a sexy, humorous romance about first crushes, second chances and the final verdict of the heart.
Appealed, the third book within The Legal Briefs series, showcases the second-chance love story of Brent Mason and Kennedy Randolph. Having grown up with their sprawling estates next door to each other, they'd been best buddies until high school. High school, when all the popularity and push of being "cool" seems to outweigh being a decent human being. Brent the handsome Lacrosse player versus Kennedy the frumpy-dressed awkward girl of the class. Throw in a little girlfriend jealousy, lack of communication, misinformation, and their close friendship ended. Kennedy disappears overseas and years pass...
When renowned defense attorney Brent Mason finds out the new federal prosecutor in town (and assigned to his current case) is none other than his long lost friend Kennedy Randolph, he thinks a plea deal is in the bag. Who can resist this face? Apparently the knock-out, non-frumpy blonde bombshell Kennedy Randolph. She's ruthless in the courtroom and suddenly Brent cannot resist the never-ending pull his heart (and body) has for his childhood friend. But a lot of time has passed- can they resume where they left off before everything went to sh*t? Maybe...
"What'd you do to your face?" she asks, folding her arms.
I touch my chin. "I grew a beard."
"Well ungrow it. It looks like a vagina from a 1970s porn film."
Maybe not...
Appealed is an endearing, fairly low on angst Contemporary Romance. Emma Chase captured my interest with her debut work Tangled and I was so excited to see this book was also exclusively in the hero's point of view. Nothing better than getting inside a man's head- especially when you know the author can do humor. Brent's inner monologue didn't fail me here. Though not as laugh-out-loud funny as Drew in Tangled, Appealed had its fair share of comedy.
Her designer skirt, sleeveless silk blouse, and red lacy underthings float on the air for a fraction of a second, then fall to the sidewalk and street below us. Her bra gets snagged on the antenna of a passing car and waves majestically down the street like the flag on a diplomat's vehicle from some awesome country named Titsland. Feels like I should salute it.
I hadn't read the first two books in this series and this can definitely be read as a standalone. We see the characters from the first two books but I wasn't lost whatsoever. Brent wants Kennedy back but can he grovel muster up the nerve to lay it out there for her? She's a feisty strong heroine that has encountered the worse of bullying as a teen and I was pleasantly happy to see she didn't cow down to Brent within the courtroom or the bedroom. He had to earn it and earn it he did.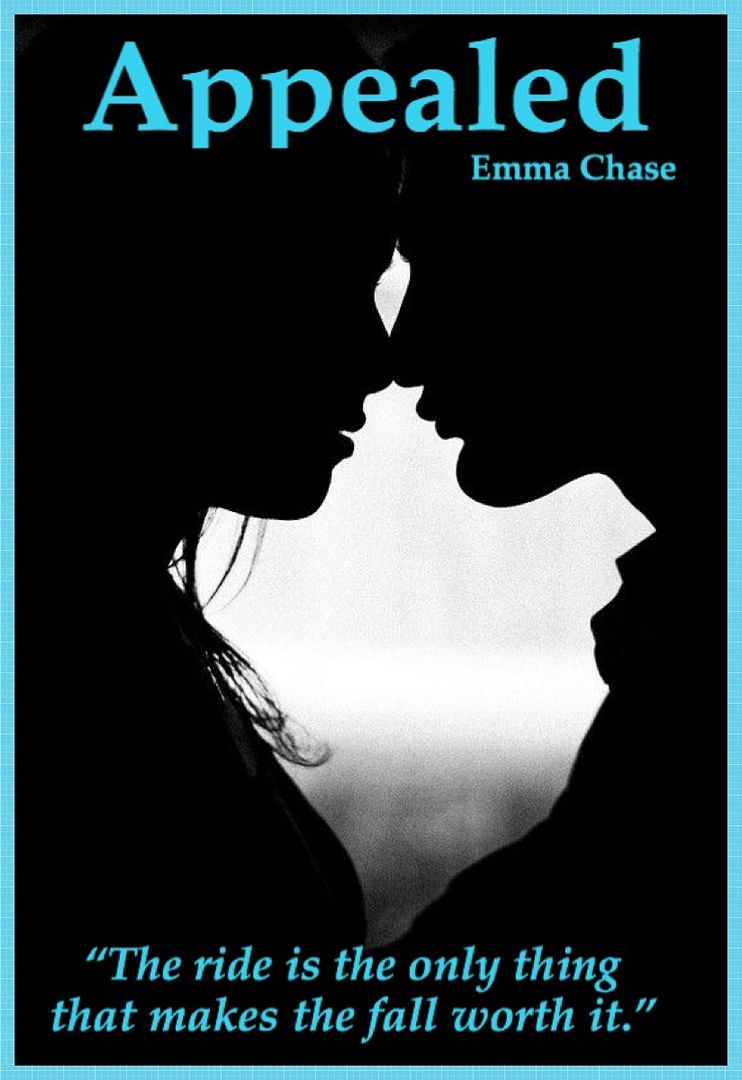 So if you're looking for a book that's fairly light-hearted, reads quickly, and will leave a smile on your face, Appealed is a good bet!
Advanced copy received by author in exchange for my honest review.

ABOUT THE AUTHOR
By day, Emma Chase is a devoted wife and mother of two who resides in a small, rural town in New Jersey. By night she is a keyboard crusader, toiling away the hours to bring her colorful characters and their endless antics to life. She has a long standing love/hate relationship with caffeine.
Emma is an avid reader. Before her children were born she was known to consume whole books in a single day. Writing has also always been a passion and with the 2013 release of her debut romantic comedy, Tangled, the ability to now call herself an author is nothing less than a dream come true.