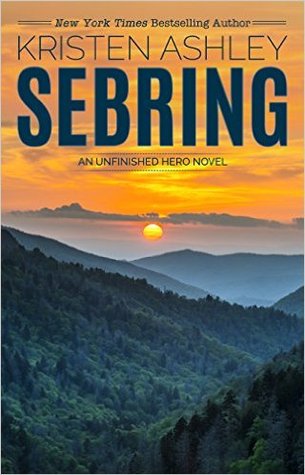 Book Title:
Sebring
Author:
Kristen Ashley
Series:
Unfinished Hero #5
Release Date:
January 11th, 2016
Genres:
Contemporary Romance
Nick Sebring has issues. Born feeling like an outsider in his own family, growing up under the shadow of a brother who could do anything, Nick isn't that great of a guy. But when this culminates with Nick lashing out to hurt his brother through the woman he loves, Nick turns inward and makes some decisions about the man he intends to be.

And as he does this, he falls in love and truly learns the man that he's grown to be.

When his love is murdered right before Nick's eyes, Nick knows he has to avenge her. He knows how he's going to avenge her. And he has no qualms using Olivia Shade to exact that vengeance.

Olivia Shade has grown up on the outside of her family too. Her problem is that they don't want her outside. They want her all the way in, right under their thumbs. She pays the price for seeking escape and learns her lesson—she'll never see a dawn where she wakes up free.

Then she meets Nick Sebring, and even as she fights it, the hope that died years ago starts to blossom. She can find love. She can have a man of her own. She can be happy. She can be free.

Olivia hopes while Nick schemes.

However, as Nick peels back the layers of all that is Olivia Shade, he finds something surprising. He understands its fragility. He falls in love with its beauty. He seeks to protect it.

But he forgets to protect his Livvie from one thing: Nick Sebring.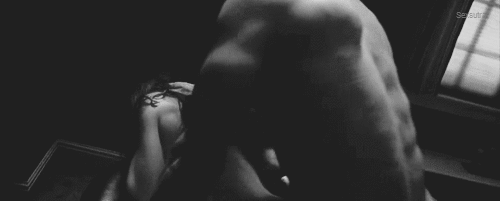 I don't think many people think they'll venture into this Kristen Ashley book showcasing Nick Sebring and think they'd fall in love with the bastard man. If there's anything about women, we have long memories and tend to harbor grudges. When that grudge is against a born-with-a-silver-spoon-in-his-mouth Nick Sebring, we grab on to that grudge uber tight! After all, this is the guy who hurt my all-time favorite Alpha anti-hero, Knight Sebring. This man, to his own brother, tried to come in between Knight and Anya's HEA. Can he be forgiven? I believe he can...
Years have passed since Nick betrayed his brother. He's grown up and holds a respectable job as an informant with the Feds. A spin-off to what Knight does for a living, he was taking down a human-trafficking ring with his also-Fed girlfriend when everything goes awry. He's cornered and painfully watches his lover Hettie's murder. He vows revenge against the House of Shade- specifically the leader, the father, kingpin Vincent Shade.
Olivia Shade is living in the shadows. Her father and sister major drug lords, she aims to steer as clear of the outlaw aspects of their business yet she is a Shade. No choice in the matter- family loyalty or the consequences of betrayal- which she's experienced at the hands of her father. Head down, do her job, go home alone, eat alone, and even attend the private club alone. Then one night her private viewing room at the club is double-booked and in walks the infamous sex-on-a-stick Nick Sebring.
Sebring was a fairly slow build in the actual story aspect for me yet the sexual side of this book was quick and SMOKING hot. From the minute Olivia walks up to Nick in the club and mounts him, their sexual connection is explosive. Both are struggling for control. But unwilling to be the bottom. Nick has his sights on revenge yet all the lines start to become blurry as he gets to know the "Shade in the shadows" Olivia Shade. Suddenly the need to gain information about their drug dealings in order to take down her dad starts to take a backseat to his crazed passion with Olivia. But it's just screwing- that's agreed upon. Until it isn't...
Nick and Livvie both know who the other person truly is in the outside world and their lifestyles don't blend yet their connection builds and Nick is soon beginning to worry that having himself in her life is unsafe for her... why does he even care? Because he cares...
***I just want to put it out there that this is not a book about a broken-hearted guy who is still hung up on his dead girlfriend. The revenge takes years for Nick to build. He's had lots of time to get over losing Hettie. So no worries that this is some forlorn guy still in love with his long-passed girlfriend. His motives are revenge for a person who can't exact it herself.
I never thought Kristen Ashley could take Nick Sebring and make me forgive him! He's grown a lot and his commitment to making things right with Knight and his family was apparent. I can't deny I ate up every scene with Knight and his Anya and two girls. Though Nick is the quintessential hot alpha bachelor, Knight is just it for me. And what does Kristen Ashley do? She takes my favorite quote in Knight and re-uses it here! I was a blubbering pile of goo by then!!!
Wars fought over a face like this. A man would work himself into the ground for it, go down to his knees to beg to keep it, endure torture to protect it, take a bullet for it, poison his brother to possess a face like this.




"My brother found that face," Knight finished.




Nick hadn't found that face.

He'd found that woman.
SWOON! But I digress...
Leave it to Kristen Ashley to wrap up the Unfinished Hero series in one gigantic uber-happy red bow. The queen of epilogues gifted us with snippets of each and every couple in the series and what they're up to today. Loved that!!! Everything shines with this author for me and when the book-funks come along, only coming home to a Kristen Ashley novel will bring me out of it. She has a voice all her own; has mastered the art and dialogue of Alpha like no other, yet always brings forth a warm feeling of family, brotherhood, and sisterhood. In Sebring there's suspense, steam, grit, and even some cute, endearing humor at the expense of Livvie's artery-clogging cooking. Now I'm off to Kit's website to find those drool-worthy recipes she so subtly slipped into this book! Arteries be damned.
It's over for Unfinished Heroes, but luckily with Kristen Ashley, it's never over. Her characters revolve around themselves in every series so it's never truly goodbye.
Till we meet again...
Advanced copy received by author in exchange for my honest review.

ABOUT THE AUTHOR