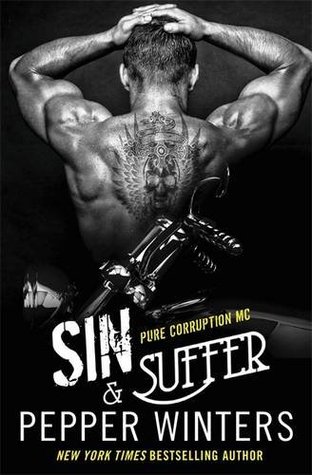 Book Title:
Sin & Suffer
Author:
Pepper Winters
Series:
Pure Corruption MC #2
Release Date:
January 26th, 2016
Genres:
Romantic Suspense, MC, Erotica
"Some say the past is in the past. That vengeance will hurt both innocent and guilty. I never believed those lies. Once my lust for revenge is sated, I'll say goodbye to hatred. I'll find a new beginning."

SIN & SUFFER

She came from a past Arthur "Kill" Killian never forgot. She made him sin and made him suffer. She tugged him from the shadows and showed him he wasn't as dead as he thought. And with her resurrection came betrayal, deceit, and war.

But then they took her. Stole her. Imprisoned her.

Now Kill's carefully laid plans for vengeance are complete. He craves action, retribution-the blood of his enemies. War has begun. War is all they'll know until they've paid their penance. He will get her back-and rewrite their destiny...
Arthur "Kill" Killian is a man out for revenge... Revenge against those that hurt him and took his most valued possession, Chloe. He's got just a general issue with corruption... Corruption within the motorcycle club community and corruption within the US government. From the day he joins with Wallstreet while incarcerated in the Florida State Prison, his goals are clear. He's had a few side tracks but the end game is the same. Vengeance.
After the cliffhanger ending of Ruin & Rule, I knew this book would start right off running. To say it hit the ground running is an understatement. I don't think I moved from my chair the first third of this book. It was so action packed, angsty and gripping, I couldn't put my kindle down.
Arthur is such a complex character. Gifted with off the charts IQ and a whiz with numbers, he builds an empire quickly. Trading on the stock markets is his nitch and Kill cringes to think what would happen to his carefully constructed world if he lost that ability. It's clear his need for revenge and change but the author trickle feeds the reader in details of his plans with Wallstreet. Even his precious Chloe isn't entirely privy to his plans.
Chloe is Arthur's kryptonite and I love how their love story truly stands the test of time. Starting at young childhood age, both MC runts, they are destined to be together. Tragedies arise, deaths, murder, but their love prevails...
Dating was temporary. What we had was permanent. As permanent as ink on skin or fossils in stone.
Written in dual POV, Pepper Winters starts each chapter within Sin & Suffer with an excerpt from one or the other of their diaries from years past and it was a great way to incorporate the young-love romance into an otherwise gritty, suspenseful novel. As those early years pass, one thing stayed true for them- their connection to one another. No man, no woman ever came close those 8 years they were apart...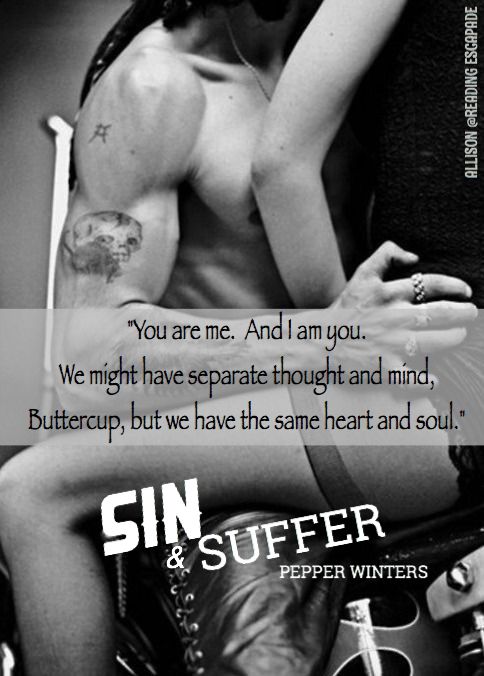 Sin & Suffer will keep you glued to your tablet with new challenges and revelations for this couple. It's steamy but also romantic, gritty and a bit dark. It seems no matter how dark the content, however, with Pepper Winters' poetic, artistic prose, she seems to shine a warm light on the page.
I didn't feel the MC component as much in Ruin & Rule as I did here in Sin & Suffer so if you're a fan of MC books, you'll get a bigger exposure to club brotherhood and club "activities" in this installment. An all-around enjoyable suspense series by Pepper Winters.
Sin & Suffer is the second book of a duet in the Pure Corruption MC series. It cannot be read as a standalone.
Advanced copy received by author in exchange for my honest review.

ABOUT THE AUTHOR
Pepper Winters wears many roles. Some of them include writer, reader, sometimes wife. She loves dark, taboo stories that twist with your head. The more tortured the hero, the better, and she constantly thinks up ways to break and fix her characters. Oh, and sex... her books have sex. She loves to travel and has an amazing, fabulous hubby who puts up with her love affair with her book boyfriends.
Her Dark Erotica books include:
Tears of Tess (Monsters in the Dark #1)
Quintessentially Q (Monsters in the Dark #2)
Her Grey Romance books include:
Destroyed