Book Title:
Isadora
Author:
Ella Frank
Series:
Masters Among Monsters #2
Release Date:
January 13th, 2016
Genres:
Paranormal, Erotica
A TRAGIC BEGINNING…

Isadora Nikitas understands what it means to be betrayed. That lesson was taught to her in the prime of her life, and when she is offered a chance to exact revenge, she finds it difficult to refuse. Instead, she entrusts her survival to a mysterious vampire known only as Diomêdês, a male who wants nothing in return but to watch over her—in every way imaginable.

Gifted with speed, strength, and immortality, she determines that her life will no longer be governed by the needs and wants of a mere man. She has cowered for the last time, and with her Ancient by her side, she thrives and blossoms into the most formidable female vampire in existence.

But, once upon a time, like all little girls, Isadora believed in love. She believed it because she once had it. So, when it comes along a second time, she knows that it's possible—but when you love someone, they become your weakness. Unless, in fact, they become your enemy instead…

A MYSTERIOUS PAST…

Fulfilling your life's prophecy should be empowering. At least, that's what Elias Fontana always believed. But, as he stands guard over the beautiful vampire he's taken hostage, his convictions start to crumble. Made to believe by his creators that he and two others have been designed to destroy a dangerous race, he has difficulty connecting his current reality to the woman he once loved.

A TANGLED TALE TO UNRAVEL…

When friends become enemies and enemies become lovers, who can you trust in the webs of lies and despair? And, when your life is at stake and blood has been shed, how much are you willing to sacrifice to fulfill your destiny?
When I ventured into the Masters Among Monsters series, it was 100% based on my faith in Ella Frank...not my enjoyment of the PNR genre. Well, Ella AND the promise of MM in this series. Though with PNR, I have a rather difficult time wrapping it around my very literal brain, I've found this series fairly easy to digest (I say that loosely). Aside for the Greek language (thank you so much, my Greek goddess Pavlina) which threw me a few times, I was able to keep up with the past versus present and other world stuffs. Which is suprising considering vampires are a bit complex...and scary. But, let's face it, most PNR is also HOT!!!

Isadora, though titled in Isadora's name, revolves around multiple characters in this series. Though it expounded quite a bit with Isadora and her Ancient, Diomêdês, we continue to build the story of multiple characters. Alasdair and Leonidas get their story continued alongside Alasdair's Ancient, Vasilios. I wasn't really sure the direction she was going to go with these three but I'm pleased how it's turning out so far. Did I mention yet my international combustion with this aspect of the storyline? It's seriously hot yet it's a love story.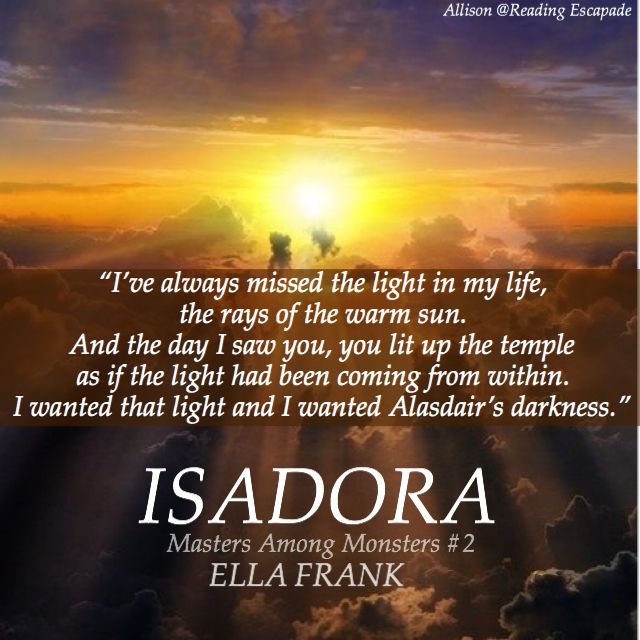 Alright, just one more Alasdair teaser...
And what happens of Eton and Thanos from the events in Alasdair? I must say the events on that aspect of the storyline have built enough to have me seriously intrigued and I cannot wait to see this next installment...Thanos.
I don't want to spoil anything in this series so I'll leave it as this- if you can stomach even an ounce of PNR, you should enjoy this book. Ella has constructed a complex world of vampires and Gods yet she breaks it down into the past and present with alternating POV's and it just works. At times I had to think back to who had what Ancient Greek history with who but soon within that chapter it seemed to clear itself up.
Ella Frank has constructed a world of vampires that harbor a fierce sense of loyalty and all things vampire grit, yet within their cold non-beating hearts lies emotions and a true sense of brotherhood...and love.
They were definitely governed by their intense moods and usually dark in nature. Yet at their core ran a deep sense of loyalty to one another.
Isadora is suspenseful and gripping, erotic and sensual, dark and gritty. It'll keep your interest and leave you begging for more. This cannot be read as a standalone but, no worries, no cliffhangers are to be feared. It simply builds each story in each installment. There is MM, MMM, MF, and FF in this particular installment. I'm not particularly a fan of FF but the scene almost fades to grey and was well done. The other scenes, well, I think my ovaries combusted. I swear the steam in the last 15% of the book should've set my kindle afire.
I'd highly recommend this for MM fans, also fans of Ella Frank because, well, it's ELLA! But also PNR fans, obviously. If PNR isn't your cuppa I think it still can be read here with success. I'm proof of it.
Looking forward to Thanos coming in March 2016.
Advanced copy received by author in exchange for my honest review.


ABOUT THE AUTHOR
Ella Frank is the author of the #1 Bestselling Temptation series, including Try, Take, and Trust and is the co-author of the fan-favorite erotic serial, A Desperate Man. Her Exquisite series has been praised as "scorching hot!" and "enticingly sexy!"
Sign up
here
to receive the latest information on Ella's upcoming book releases, ARC opportunities, sales & events!
GIVEAWAY
- SIGNED COPY OF ALASDAIR & ISADORA - PLUS SWAG PACK
- $50.00 AMAZON GIFT CARD
- 3x Ella Frank eBook of winner's choice