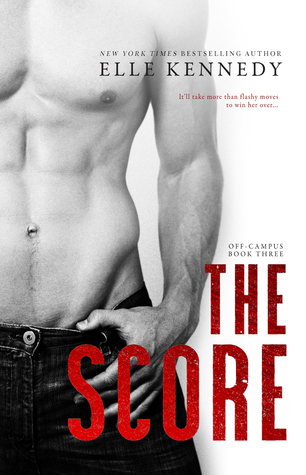 Book Title:
The Score
Author:
Elle Kennedy
Series:
Off-Campus #3
Release Date:
Jan 11th, 2016
Genres:
Contemporary Romance, New Adult, Sports
He knows how to score, on and off the ice

Allie Hayes is in crisis mode. With graduation looming, she still doesn't have the first clue about what she's going to do after college. To make matters worse, she's nursing a broken heart thanks to the end of her longtime relationship. Wild rebound sex is definitely not the solution to her problems, but gorgeous hockey star Dean Di-Laurentis is impossible to resist. Just once, though, because even if her future is uncertain, it sure as heck won't include the king of one-night stands.

It'll take more than flashy moves to win her over

Dean always gets what he wants. Girls, grades, girls, recognition, girls…he's a ladies man, all right, and he's yet to meet a woman who's immune to his charms. Until Allie. For one night, the feisty blonde rocked his entire world—and now she wants to be friends? Nope. It's not over until he says it's over. Dean is in full-on pursuit, but when life-rocking changes strike, he starts to wonder if maybe it's time to stop focusing on scoring…and shoot for love.
To say I was a little excited to read
The Score
is a bit of an understatement.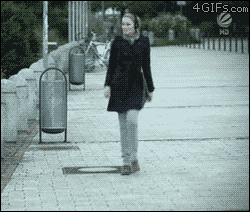 I mean, this is
Elle Kennedy,
who has proven to me she is the queen of arrogant yet completely endearing man-whores (and she's actually making me enjoy the NA genre again- which is a huge undertaking in itself). I'd met
Dean Di Laurentis
in
The Deal
and knew this self-absorbed sex-on-a-stick would give us an entertaining ride. To say this book is entertaining is such a gross understatement. The sheer number of highlights is proof positive that
The Score
will rival the likes of Garrett and Hannah's
The Deal.
Each book in this series can be read as a stand-alone but I'd still read them all as they're that good- and all revolve around a team of sexy hockey players at Briar College. So without further ado....
I introduce the man of the hour- the man who hates shirts, lives for sex, hockey, and his own uber inflated ego- Dean Di Laurentis...
Here's a tissue...you're drooling on yourself...
Dean Di Laurentis oozes sexuality. He could slap his face on a laxative label and every woman in the world would be praying for constipation just to have an excuse to buy it.
When Hannah's roommate Allie Hayes has a messy break-up with her 3-year boyfriend, she's looking for a place to hide. She's avoiding Sean as she knows her will is weak with him and she really wants a clean break. So Garrett offers up his room at their house for the weekend. He and Hannah will be out of town so his room is empty. Just Tucker and Dean will be around. With a few errant texts to Dean to keep it in his pants, the plan is set.
Garrett: Allie's gonna crash in my room.
Garrett: Your dick can stay in your room.
When Allie shows at the house, it's apparent Dean did not receive the texts and interrupting his current threesome doesn't go over well. Dean instead finds himself cockblocked with blue balls babysitting a broken hearted and off-limits 'Hannah BFF' Allie. Fun times. So they tap open a bottle of tequila, and you know what they say about tequila and clothes....a trip to the bone zone.
Allie doesn't do casual sex yet she finds herself waking to a very naked Dean beside her and visions of a crazy night full of everything sexual fantasies are made of. No wonder Dean has the reputation of screwing half the female student body at Briar. But it's a one and done. She doesn't do hook-ups and definitely not with the notorious Dean Di Laurentis.
To say I enjoyed Dean and Allie's story is a massive understatement. Dean is beyond endearing in all his humorous yet arrogant ways and combine his sexual prowess, Allie doesn't stand a chance. I loved everything about each one of them. First, Allie is real. She has her convictions and she tries damn hard to stay true to them. Second, she's confident in her sexuality. Holy mother of lip-biting-till-he-bleeds scenes. Their chemistry is off the charts SMOKING and I commend the author for giving us a heroine that takes what she wants from a delicious piece of manmeat!!
But, for once, Allie wants this to be a casual hook-up and nothing more yet Dean is not so sure. Sex with Allie was beyond anything he'd ever experienced. He finally finds that girl and she says "one and done?" Say it isn't so! Allie won't do casual. She wants strings so she obviously doesn't want the Dean Di Laurentis, Briar College man-whore extraordinaire.
The only problem is—I like the strings. Sex and relationships go hand in hand for me. I'm all about the snuggling and inside jokes and talking late into the night. I'm a card-carrying member of Team Boyfriend, and after last night, I can honestly say that Team One-Night-Stand sucks balls. The sex was incredible, but the shame it left me with isn't worth the orgasms.
I loved the progression of their love story. Not an insta-love but more of a combustion that trickles to a slow build again. The growth of both these characters together was phenomenal and secondary characters just added to their draw. Dean is a guy not many people have a lot of faith in beyond sex and having a good time but he really surprises us all here...and Allie is his kryptonite, his deal breaker. Little Dean only has eyes for Allie.
"I mean you're facing a Jacob quandary. You imprinted on her pussy, and now it's the only pussy you can think about. You exist solely for this pussy. Like Jacob and that weird mutant baby."
There is NOTHING I would change about this book. We have humor, steam, a bit of mature drama, everything. The Score is fantastic third installment in the Off-Campus series. Looking forward to more everything from Elle Kennedy!
Advanced copy received by the author in exchange for an honest review.
About the Author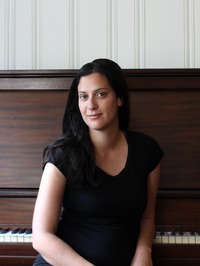 A New York Times, USA Today and Wall Street Journal bestselling author, Elle Kennedy grew up in the suburbs of Toronto, Ontario, and holds a B.A. in English from York University. From an early age, she knew she wanted to be a writer, and actively began pursuing that dream when she was a teenager.
Elle currently writes for various publishers. She loves strong heroines and sexy alpha heroes, and just enough heat and danger to keep things interesting!